GBA-400
Unleash Your Playlist

Smartphone Linkage
with Bluetooth® SMART
Smartphone Linkage with
Bluetooth® SMART
Bluetooth® Smart enables linking between the watch and a phone for remote control of the phone's music player, simpler configuration of watch settings, and much more. Using the new G'MIX music app provides a new level of personalization to music playback. The G'MIX App in combination with the G'MIX GBA-400 watch makes music playback more enjoyable than ever.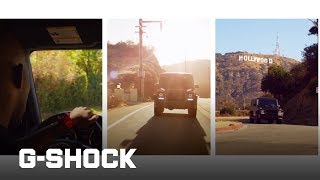 01
MUSIC CONTROL
Control your phone from the watch

02
WATCH SETTINGS
Control the watch from your phone
03
BLUETOOTH
CONNECTIVITY
Mobile Link
Comes in handy all day, every day
Enhances your music-listening experience via smartphone link
A new G'MIX music app lets you customize your music playback with an equalizer with presets for the type of music being played (rock, pop, etc.), a sound field (reverb) setting that reproduces the ambiance of various different live venues, and more. A SEARCH MODE even lets you use your smartphone to pick up the sound of music being played in your area and search for its title.*1


*1 Music Search: SoundHound technology is utilized in the GBA-400. One-touch enables users to search for music that is playing around them in the gym, cafe, or club, and returns the song title on the watch display.
G-SHOCK+
G'MIX App
Applications
* Requires download of G-SHOCK+ and G'MIX App.